LOL TOLHURST x BUDGIE x JACKNIFE LEE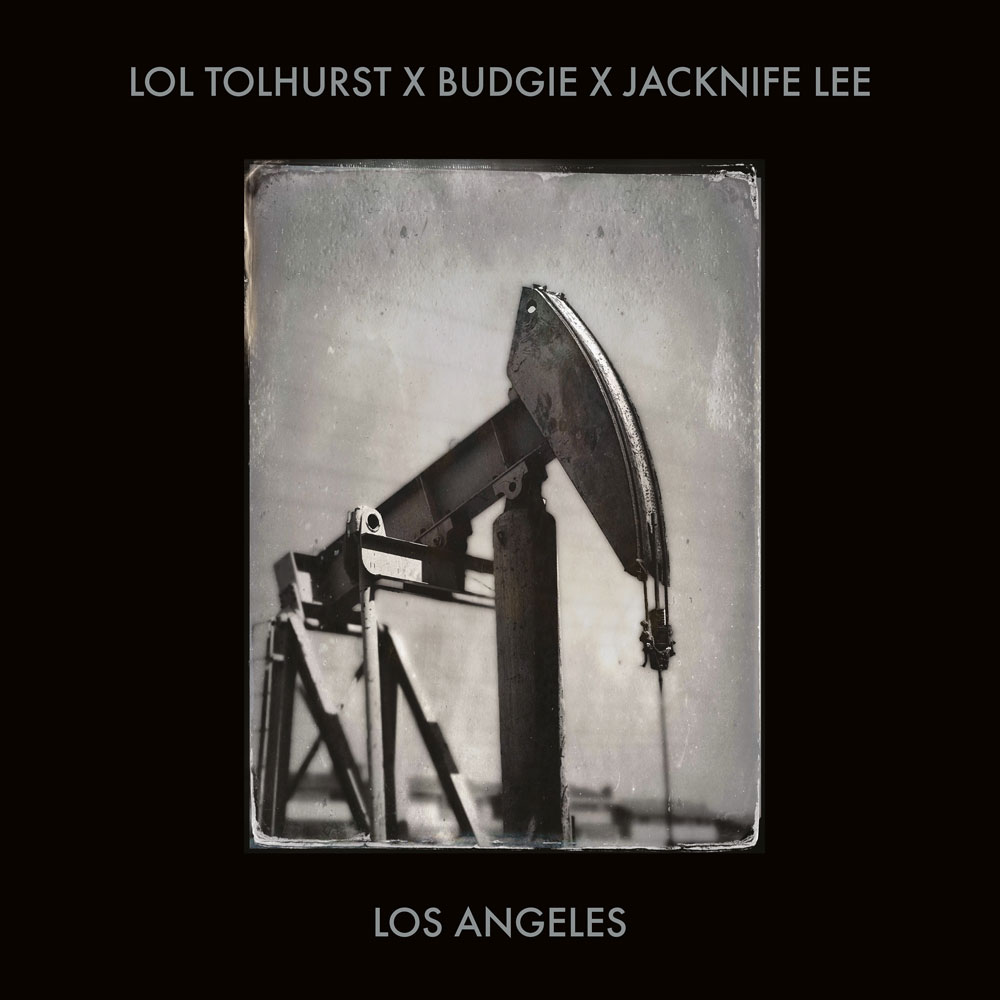 Lol Tolhurst x Budgie x Jacknife Lee are pleased to share their debut album Los Angeles due out November 3 via Play It Again Sam and available to pre-order here. The hard-hitting 13 tracks on the album dive into freedom and slavery, beauty and decay, hope and despair, and feature an astonishing list of guest vocalists and musicians including The Edge (U2), Isaac Brock (Modest Mouse), Bobby Gillespie (Primal Scream), Civil Rights avant-garde artist Lonnie Holley, Mary Lattimore, Starcrawler wild child Arrow de Wilde, Mark Bowen (IDLES) and more. The band has also shared the album's title track and first single which features James Murphy (LCD Soundsystem), along with a video – listen and watch below.
The three-way Los Angeles collaborative long-player was born out of a curiosity which just wouldn't die. Made up of two of the most illustrious and inventive drummers of the post-punk era, The Cure's Lol Tolhurst and Budgie from Siouxsie & The Banshees and The Creatures, along with stellar producer and multi-instrumentalist Garret 'Jacknife' Lee, this unlikely alt-supergroup have spent the last four years spiriting up one of the most extraordinary albums to appear in 2023.

Perusing the track list with its guest credits, you may rightly wonder just what the 13- track long-player holds in store. The answer: a hard-hitting and compulsively exploratory 55-minute electronic head-fuck, founded on unrivaled rhythmic expertise, fleshed out with an armory of synths, guitars (Jacknife's forté) and supplementary percussion, often overlaid with elite-class strings and brass, then universally twisted, manipulated and quite masterfully sculpted by Lee, with his super-producer's hat on.

As per the title, Los Angeles is a journey into the dark heart of contemporary LaLaLand, the city of its birth, a place of limitless possibility, yet also a diseased and consumptive hell-on-earth which, to quote Murphy's lyric on the title track, "eats its children", where pipe dreams shatter, racial inequality prevails and homelessness spirals. Throw in the terrifying uncertainty occasioned by the global pandemic, which both interrupted and ultimately aided its genesis, and the 'new Cold War' terror that has ensued, and you get a record fueled by fear and tension, but whose propulsive beats, mind warping, mangled instrumentation and exceptional vocal contributions provide release through the palpable joy of their creation. Far-sighted and visionary, it lands just in time for those Album of the Year polls.
'LOS ANGELES' TRACK LISTING
1. This Is What It Is (To Be Free)
2. Los Angeles
3. Uh Oh
4. Ghosted At Home
5. Train With No Station
6. Bodies
7. Everything And Nothing
8. Travel Channel
9. Country of the Blind
10. The Past (Being Eaten)
11. We Got To Move
12. Noche Oscura
13. Skins